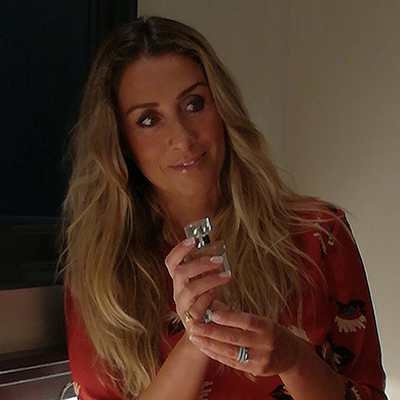 Everything began back in 1997, we were in Florence and in the Autumn of that year opened the Department store La Rinascente, graduated from high school and eager for economic independence from family, one morning I showed up at the public relations office and asked if they were searching staff for perfumery, after less than a week they called me back and after a long talk with the branch manager I started working at the Giorgio Armani perfumes's counter.
I entered as saleswoman, my role was to promote the fragrances that were just launched on the market, in all languages of the world had to brought customers and made them fall in love with this perfumes, so wonderful to me, still remember the scent of every single fragrance.
I can tell you that from here, begins my story, I grew up, I became more and more confident and experienced in the world of perfumery, beginning to work for mayor cosmetic houses on the market, travel up and down Italy, Tuesday to Saturday, me, myself, I and my suitcase, always in different cities and different perfumeries, beginning to learn hundreds of girls like me who crowd the hotels most remote cities of our country, including the Islands, sometimes just a small perfume shop where our presence was sought throughout the week.
After twenty years of travel, new missions and new assignments I decided to open the "baggage" of what I've learned and loved creating my perfume Acqua di Fiesole.
Because in this magnificent place I grew up and I owe to this enchanted place most of the things I learned, nature, landscape, the silent of the night, the simplicity of the people who popolate it, the timeless elegance of the monumental villas that adorn the Hill, and this water that flows beneath these lands for centuries, the waters of ancient stories, waters that have fed the men since Etruscan times, waters that bathe the lush gardens, waters that have grown these wonderful trees, waters that gave me all these aromas from the wild as the brooms, to the most refined as the orange flowers of the trees of my father roamed our grounds, by the softness of the flower of the almond tree, which then gave its fruits, the gardenias into the vast terraces, jasmine flowers that marked with the flowering takyiwaa the arrival of summer and with her travel and the memories of those moments that I have enclosed in this bottle…
Acqua di Fiesole, a perfume and a story to tell………..